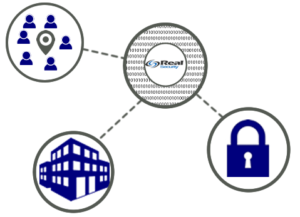 Real Security access control solutions
Protecting people, property and assets
Flexibility and performance
Access control at Real Security starts with a platform that is able to the meet the needs and ever-changing environments of businesses today. Our solutions range from single door solutions to enterprise systems that provide the flexibility and performance expected from a technology-driven security company.
Ease of use
Implementing an access control system can feel like a big change in company practice. Our Access control systems are intuitive and straightforward to administer. The increased security is a benefit to all, rather than a benefit for some and a headache for those who have to administer it.
Most of our access control systems are browser-based and require no software installation, delivering a ready-to-deploy solution.
Why us
Real Security specialise in access control solutions. Our team are focused on designing systems that are fit for their purpose, containing the important features that are necessary for well-run organisations. We use award winning products that are reliable and easy to use.
Our systems are
Reliable, high quality systems: We are confident of our quality and back our products with a 5-year guarantee.

Systems that are incredibly easy to use: Minimal training required for administrators.

Designed to grow with your needs: You can add doors as and when needed.